Last month (August 2022) we had our 1st EVER (after covid) in-person event and it's time to talk about how it all happened. This blog post is going to talk about our original plan, what we were able to deliver, and what worked well vs. what needs improvement.
After 2 years of virtual events, our goal was to finally have an in-person event. Whenever this is going to be a 300+ attendees event or small event, we were anxious to just have an in-person event. While running virtual events was better than having no events, we missed the energy exchange that frequently happens during an in-person event.
While we were originally targeting our regular event month, we had to give up on June 2022 due to venue unavailability. We were ecstatic to hear that August is available and booked Loyola Marymount University for August 13.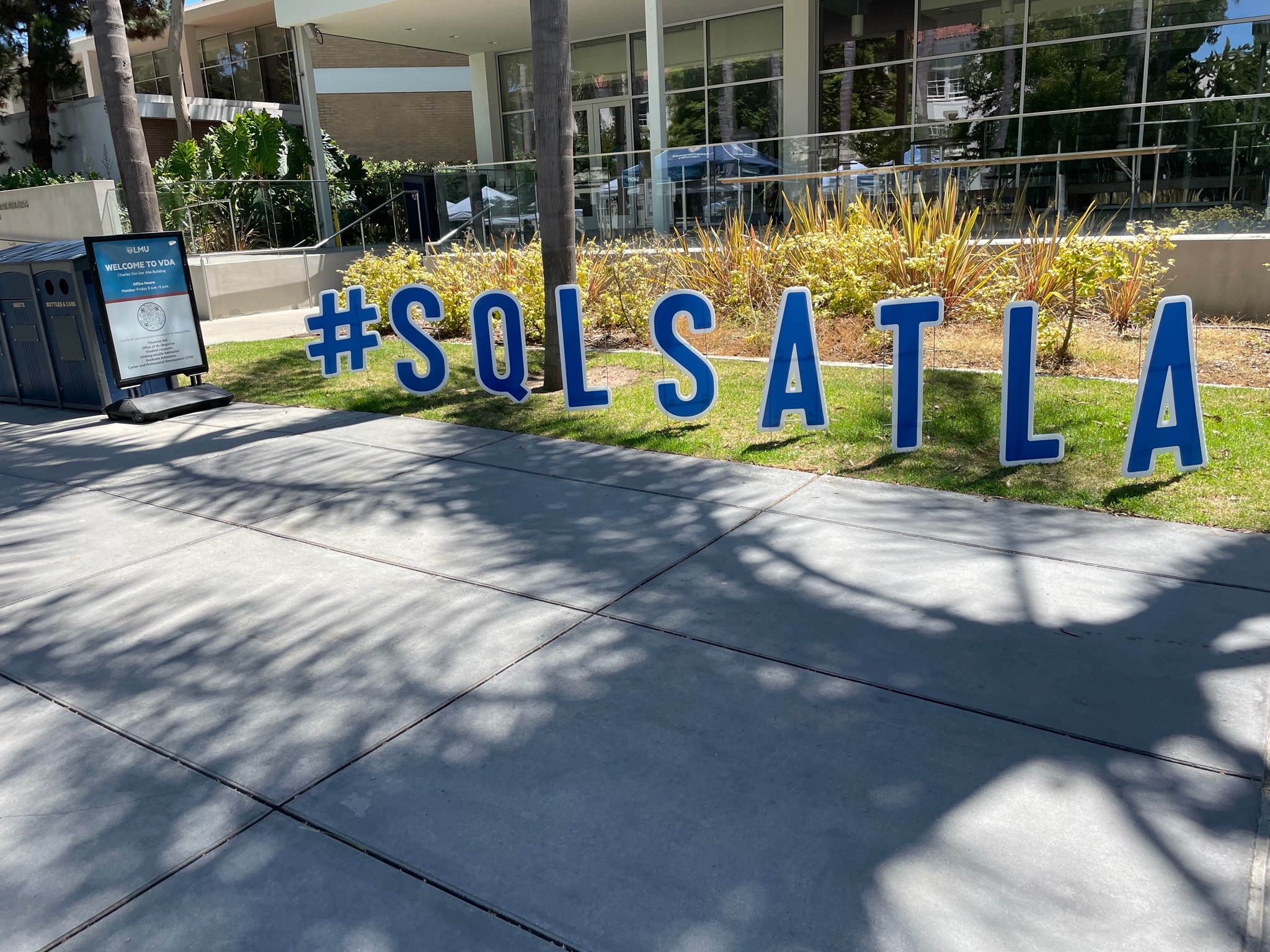 Running a PASS-free in-person event
Since this was our first in-person after PASS's demise, we had to bring new tools to replicate and enhance our event experience. Unfortunately, sqlsaturday.com in its current form only provides us with the event listing. Luckily, our 2 past virtual events allowed us to master additional tools.
Tools used during this event:
Attendee registration – Eventbrite.com (+ Organizer mobile app to check-in)
Sponsor registration – custom-built Microsoft Form to enable sponsor sign-up, listing all available sponsorship tiers on the datadriventechnologies.org website, and PayPal invoicing to collect fees
Speaker registration/schedule/session management – sessionize.com
Event listing – sqlsaturday.com
Event/session feedback – custom-built Microsoft Form with QR code
Event raffle – custom-built Microsoft Form with QR code
Volunteer registration – custom-built Microsoft Form with QR code
Email marketing – Sender.net
Social Media marketing – buffer.com
Event stats:
14 speakers and 15 sessions (3 rooms x 5 sessions)
78 attendees with 209 registered attendees
6 paid sponsors (4 sponsor's tables)
What worked great
Using EventBrite Organizer phone app check-in option provided us with real-time exact attendance numbers (no need to count attendee bags)
Having Social Media Booth generated plenty of visual content for our Instagram account
Running raffle without any paper and relying solely on electronic data collected by Microsoft Forms
Inclusion of raffle gift cards for each paid sponsorship
Indulging our speakers with both t-shirts and Yeti mugs
Communicating via 5 attendee email campaigns using Sender.net
Communicating with 3 speaker email campaigns using Sender.net
Creating session PPT template
Buying enough food and beverages for breakfast and lunch
Allocating 30-minute long breaks between sessions
Things to improve
Choose an event date with no local conflicts (choosing August 13 for event data was a strategic mistake as we ended up competing with DataConLA which happened on the same day and affected our attendance)
Create a printer-friendly Sessionize schedule (apparently, attendees preferred a printed schedule instead of a Sessionize PWA app)
Offer 2 Eventbrite types tickets (bring your own lunch and paid lunch) and collapsing paid into free few weeks before August 13 introduced complexity and confusion
Hick ups with the Eventbrite Organizer phone app
Automate raffle management
Perfect sponsor raffle QR codes
Improve keynote attendance