After enjoying a 6+ months of free forever service by MooSend, the new owner (SiteCore) decided to remove that option (see Fig #1). We are back to MailerLite. Luckily for us, we were familiar with MailerLite, didn't close our account and still familiar with the interface. This blog post is going to cover all the needed changes to go from MooSend to MailerLite.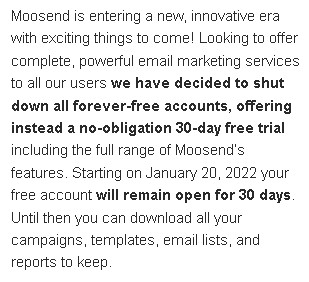 Moving email platform is nothing new to us (this is our 4th move), but here is what it takes to move between the platforms. If this is your first-time, you need to allocate somewhere between 30 to 120 minutes.
You can move to your new email marketing platforms in 5 easy steps:
Email List – copy list with all the email addressees
Email campaigns – copy HTML-based email newsletters
Signup form – create a new hyperlink to allow people to subscribe your contact list
DNS records – adjust MX setting to improve email deliverability
Test email campaigns sending it to test accounts
Email List
Export contacts from MooSend (see Fig #2), downloaded the list, and imported that list into MailerLite (see Fig #3).
Email campaigns
Recreate email campaigns and since MailerLite doesn't allow custom-HTML option with a free account, we just recreated all the building blocks to match as best as we can our current 5 email campaigns and most importantly copied over all the unique images used in email campaigns (Fig #4).
Signup form
Create a new form to allow people to subscribe by adding their email address to a main email list (Fig #5)
DNS records
Follow instruction on MailerLite and make adjustments to you web site DNS records. You would need to add/update your MX, TXT, and CNAME records prior to getting everything green (Fig #6).
Enjoy your new email marketing platform – MailerLite.